Valentine's Dinner Instructions
Chef Taddesse's Valentine's Date Night Dinner
INSTRUCTIONS
Thank you for ordering your Valentine's Day Date Night Dinner from Mélange! 
Chef Taddesse has put together some plating and reheating instructions.
Please allow about 15 minutes at home to reheat and plate the dinner before serving. 
OYSTERS
Cucumber, Rose Flavors
This dish comes all plated. Simply transfer into a plate.
BERBERE CURED SALMON
Potato Beet Salad, Smoked Buttermilk Dressing, Black Cumin
click below image to view video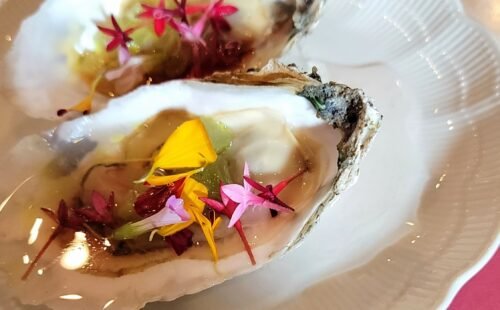 MITMITA-CRUSTED BLACK COD

Ratatouille, Tosign, Kikil Broth
Transfer ratatouille and cod onto a sizzle tray.
Heat for about 4 min at 350 oven.
Bring sauce to a boil in small pot and drizzle over plate.
KIBBEH-AGED BEEF TENDERLOIN
Gomen, Ayib, Shallots, Sauce au Korerima
Transfer beef and garnishes onto a sizzle tray heat for 5 min at 350 degrees in the oven.
MASCARPONE CHEESECAKE
Strawberries, Ricotta, Honey, Fleur de Sel
Transfer on to a plate or indulge as is.
We are so grateful for your support, and we hope you have a wonderful evening.
Chef Taddesse and the Mélange Team
p.s. Please feel free to share any photos and feedback with us directly at connect@dorosoulfood.com or via social media: @melange_dc on Instagram and Twitter and @melangedc1 on Facebook.